Paul Kisho Stern: Growing community compassion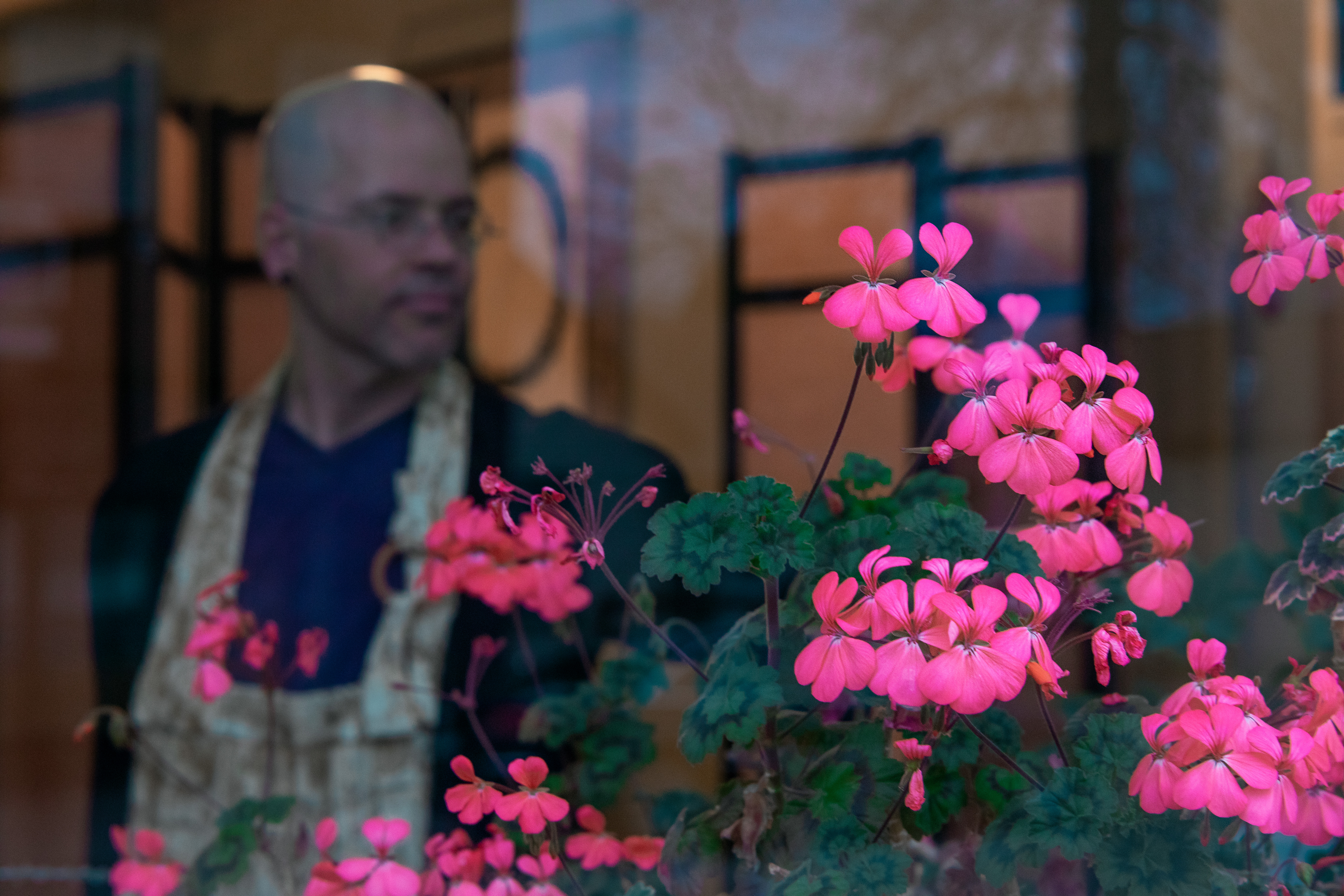 by Marcia Ratliff, with photographs by Cloey Jo Walsh


On a bleak Thursday morning before sunrise, a faint glow pours out of the tall glass windows at Dharma River/Manitou Center on West Fifth Street. Inside, the space is set up for zazen, a sitting Zen style of meditation, flat cushions on the floor and the smell of incense in the air. The only sounds are the rush of air in the heat registers, the creak of the wooden floor, the breathing of the participants, and the occasional car passing on fifth street. On a laptop, a woman joins the gathering from her home in Poland.

It's a familiar setting for Paul Kisho Stern, who runs the center with his partner Trish Baishin Johnson. He's set up and taken down for hundreds of gatherings, configuring the room to meet the moment, whether it's a Zen meditation, a community gathering or event, a course or training event, a martial arts class or a yoga session.

He jokes that his role in the community is that of a custodian, there to make things just right at the beginning, to keep them rolling in the middle, and there to take down, clean up, and sweep at the end. And there's truth in the comparison, truth that speaks to the value of tending space, the work that all of our custodians, whether that's their job title or not, do to create the conditions for meaningful gathering.

Dharma River/Manitou Center started in 2011 in downtown Winona and has been at its current space on West Fifth Street since 2015. Stern says he was always drawn to the west end, with its mosaic of homes and neighborhood businesses, each bearing evidence of their former - and sometimes current - role in the neighborhood. He was drawn in particular to their current space in a special and historic building on the corner of Fifth and Ewing, which for many years was the home of the Winona Yoga Center.

"I remember driving by what is now Dharma River really early on," Stern remembers, "and as you're driving by, there's like this cool glow that comes out the windows in the evening in this space. And you can sort of like peek in without peeking in, to sort of see what's going on. You can participate in what is going on as a part of that community even in just driving by—the center seems to engage community curiosity, you know, you almost can't help being drawn into the activity of the space as you go by."




Stern welcomes this curiosity, this proximity to the sidewalk and the street. The big front windows still bear the letters Y O G A in the transom, but once you're inside, the space reveals a past of a different sort: its long tenure as a neighborhood grocery store, a place of connection and a resource for the neighborhood for decades. Stern has heard stories that during the Depression, the store owner used to extend credit to help people pay for groceries until they were able to pay it back. On the wooden floor, a seam demarcates where the long grocery counter used to be, dark worn places where you can imagine the grocer used to stand.

"You sort of pick up the story, and get a sense of the space's long history of engaged community compassion when you walk in," Stern says, pointing to the shelves lining the walls, their uneven boards revealing years of use. "All these shelves and stuff are from the original grocery store this used to be. And the quality meats sign lets you know that the refrigerated meat section was in the back of the room."

It's a lived-in space, one that has held several transformations over time, vestiges of each use remaining as the inhabitants change. The meat section is now an office, storage area, and kitchen. There's a series of portraits on the wall, photos of the priests who taught Stern and Johnson, and the priests who taught them, going back to 1800s Japan.

"To me anyway, the goal for us is really providing a safe, welcoming environment to do exploration into living more fully and compassionately, to work together to ease suffering, and to amplify the awesomeness of our human potential," Stern says. "Really giving folks well-developed tool sets through which to holistically develop themselves in terms of mind, body, and as part of living systems."

Today, Dharma River/Manitou Center offers a range of classes, workshops, and services curated to do just that, from mindfulness for kids, to resilience for first responders, to movement classes, to Zen sittings. Some groups are large, some small. There are kids and older folks and everyone in between. Stern says the activity flowing through the Center brings a sense of churning, the space always turning into something different based on what's happening.

"Coming in and having this safe space for people to do that kind of exploration—I think the building and sort of the history and the way the story comes together, lends itself to being a sort of catalyst to help allow that to feel more approachable."

Stern grew up about 15 miles north of Bemidji as a multi-racial kid living a simple life in the woods. He continues to connect elements of his Indigenous and European ancestry as well as his broad life experience into the work he does today. From a young age he had dreams of becoming a wandering gong fu monk dedicated to helping people. Those dreams led him along a long and winding path that brought him across the US and Canada, to Europe, and to Taiwan to learn from masters in martial arts, meditation, and Traditional Chinese Medicine. Now those dreams are manifested in the community he and Johnson have created at Dharma River.

Their path to Winona followed a season of traveling, a life of moving and recreating themselves in each new space while serving the same mission. Before they moved to Winona, they'd been living in the Twin Cities. For years they'd been going at a fast pace—Stern teaching and case managing for the public schools and Johnson working for a farm-to-table initiative as part of the Minnesota Project.

But when their son Nico was a baby, they'd come down to Winona to stay at the Trempealeau Hotel, spreading out a blanket so Nico could watch the trains go by.

"We were pretty broke then, so it was like a vacation to get out of the city, and super cheap by comparison, and beautiful, so for us it was this small miracle world, tucked between bluffs, with the river carving its way through it. So we checked it out and kept coming back."

Stern says it was an interesting transition at first, figuring out the dynamics of a smaller city. Since then, they've found a sense of community here, one that's rooted in the natural environment of Winona, the way the bluffs and river hold the town and give it boundaries, the way thunderstorms swirl over Winona and then re-form on the other side of the river.

"It has sort of like this feeling of being held in that way, being here. That it's a really safe, generative, and sometimes challenging space, where people are there for each other. There's a sense of community reliance. It's an island, so you get that sort of island sense of—you see many of the same people in different combinations in sort of the same circles moving around. And there's a sense of comfort that comes with that, and there's a sense of sort of natural life flow that comes with that as well."

Stern doesn't take for granted the significance of physical space, the rich intersection of past and present that happens in a moment, accompanied perhaps by a slant in the light, or the first day of sun after weeks of rain.

For Stern, all of Winona is steeped in a series of historical layers like the ones at the Dharma River/Manitou Center space, sometimes invisible, sometimes obvious, the way floodwaters leave driftwood behind them as they recede.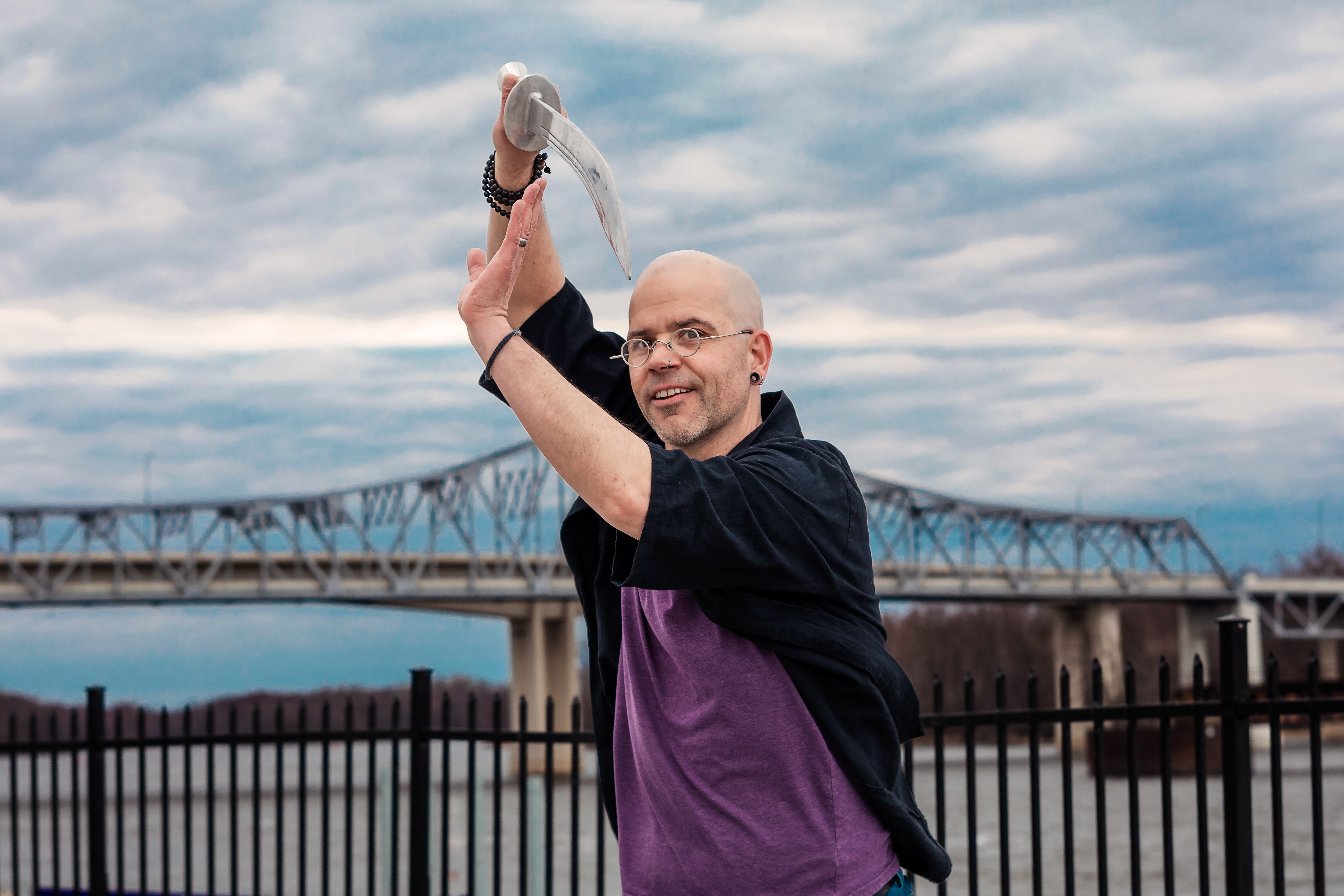 From the original Wapasha's Prairie, to a rail and lumber hub, to a manufacturing center, the city wears vestiges of these past forms in ways that speak to present questions of how the community will hold change.

"I love hearing the stories, you know, like the bar on the corner and stories of it being the oldest, consistently operating bar in Minnesota, the theater across the street that in its transformation, some folks were telling stories about it being a laser tag area at one point in time before it became this. That element of Winona change has been very interesting, to hear the smaller stories and the way they interweave into rich tapestries of life," Stern says.

"On a larger scale … I love being on the bluffs and looking on the space that Winona inhabits, the footprint of Winona, and thinking about how change happens, like what if people wanted to have another building come up, what would that look like? What part of history would have to be removed? How do we change, you know, in order to accommodate different ways of transportation, more equitable access to housing?"

What remains for us to do as a community is to cultivate the capacity to be curious, to step into a space and not have the story already written, and to include a broader bandwidth of voices, Stern says. This is what we need to do as a community, to bear witness to spaces together, to learn from that endeavor and engage in action to help these spaces as they grow and transform into something new, or a new interpretation of something old.

"Life, for me, as it goes on, seems to appear more and more as a story. The facts tend to exist contextually and from interdependent perspectives in the stories they flow through. … How do we open up spaces that allow more voices to come in and share pieces of that story that we need in order to really come to a broader understanding of the contexts that we've created together? All of us living here now benefit from being able to inherit pieces of the history as it's understood coming forward, but in the decision-making capacity, we really need to open up that space to allow for broader interpretations."

Spillway is an initiative supporting artists, culture-bearers, and local organizations in their expression of the diverse cultures, communities, and histories of the Upper Mississippi River region.

The stories shared here were produced through a collaboration between Art of the Rural and Engage Winona.



This activity is made possible by the voters of Minnesota through grants from the Minnesota State Arts Board, thanks to a legislative appropriation from the arts and cultural heritage fund.